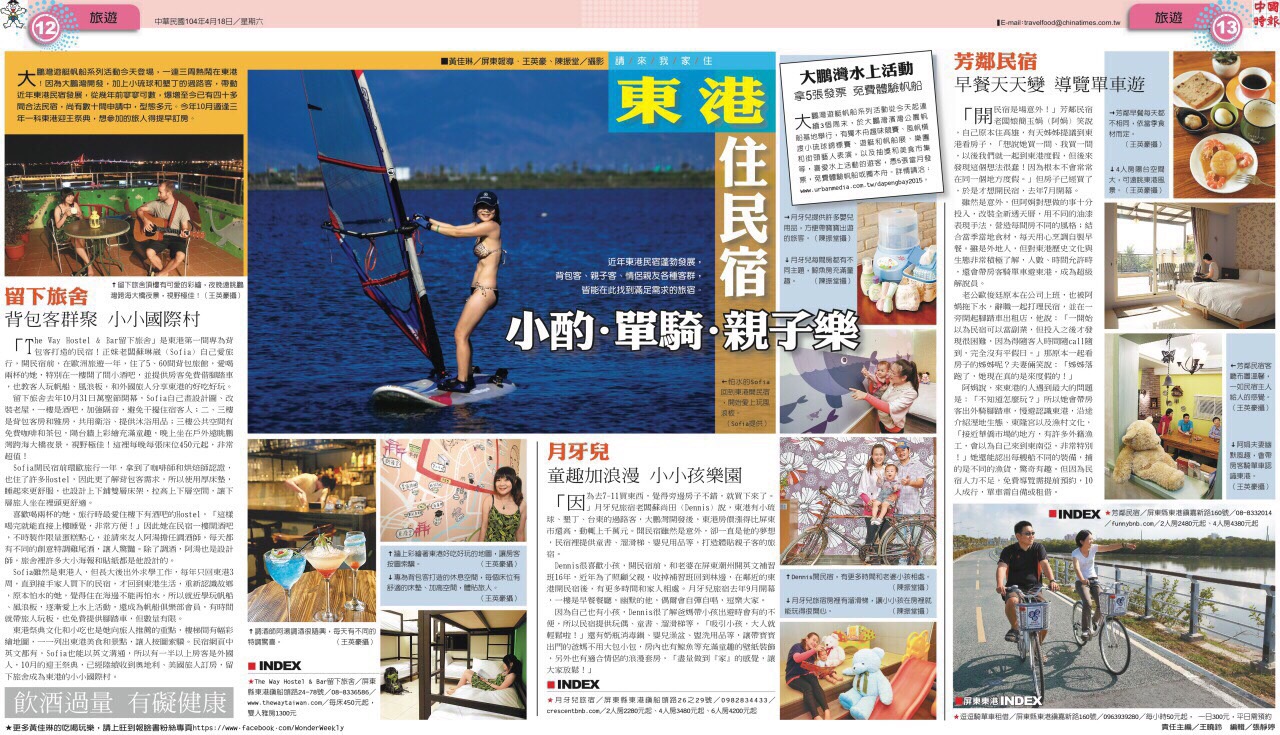 Rent Bike/Motorcycle Information 腳踏車/機車出租資訊
Bike For Rent : 100/3 hours , after three hour, every hour add 50 NTD,
All day is 200.
Motorcycle For Rent : 500 per day.

(The Way Hostel offers three free cruiser-type bikes for guests to use)

腳踏車租借: 三小時100元, 而後每小時加50元 ,租一天為200元
機車租借: 一天500元整 (可兩人使用,需有駕照)
電動腳踏車租借: 兩小時150,四小時300, 8小時以上 (含過夜) 400元
留下旅舍亦提供三台腳踏車免費使用,先借用者優先.
Exclusive wind surfing discount with The Way:
Wind Surfing - 500/person for windsurfing equipment rental. If you have 4 people, you can get a free 3-hour lesson.
Kayak rental - 100 for 3 hours
Sailing - Explore Dapeng Bay 200/person. Sailing lessons are available, please ask for more information.
Boat Burning Festival - October 4 - 11
The Biggest Festival of Donggang is the Boat Burning Festival. We call it "Yin-Wong", Yin-Wong means welcome God to visit Donggang, and the Burning Boat means God finishes around Donggang, and will bring all bad thing leaves with the burning boat, back to his world.
It happens in every three year, many fishing boats and Donggang people who work at other cities will go back to Donggang for Yin-Wong. Don't forget to booking your room if you wanna join this Yin-Wong with us.